I hate dress codes.
OK, really, I like them. I always over-think what I'm going to wear to events, so really guidelines are good. No one wants to show up at a casual party in an organza gown. I get that.
But the ever-ubiquitous "dressy casual" is not only an oxymoron but also the death knell for an under-30-something young woman. Everyone has various opinions, and every individual seems to have varying definitions depending on the day you ask him or her.
I hadn't really encountered pre-set dress guidelines for events before I met Ryan. In my family, when you attend events there are three categories: Casual (BBQs, birthday parties, general get-togethers), daytime dress (showers, open houses, day-time weddings, graduations) and evening dress (night weddings). It's easy. We don't have black-tie optional to make us weigh the, well, options.
Sure, at evening weddings I've seen the gamut in our family. But, really, when it comes down to it, no one cares that I'm wearing a silk charmeuse halter and my cousin is wearing a jersey wrap dress.
Now, staring at invitations with dress guidelines, I'm thrown and instantly it seems I have nothing to wear. It's much easier for guys. What does dressy casual mean to them? Slacks, a nice shirt, no tie necessary. Probably what you would wear to meet work colleagues out for a drink or while attending a high school reunion or office holiday party. For more mature women, it's easier too. Nice dress pants, a fun shirt (the more embellishments the better I think) and heels.
But there's something about my age group that tilts these guidelines on its head. Not only do I have to pick out the "dressy casual" from among a slew of dressy and casual dresses, but I have to worry that it seems "too old" or "conservative" for my 25 years. And once you find a dress that seems young and hip, suddenly the embellishments on the front or the strapless neckline make it too dressy.
Add into the mix being the guest of honor and wanting to look your best and most special, and you've got a real mess on your hands.
So, finally, after weeks of looking, two dresses bought, one returned, pondering alterations and a lot of cursing to Ryan and inside of my head, I thought phuck it. I'm wearing what I want and I just don't care.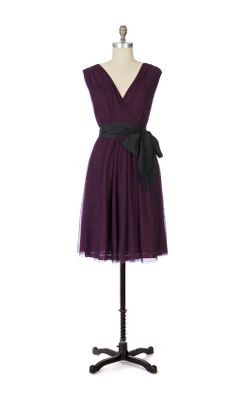 And that's that. Because frankly, what's appropriate for a party is in the eyes of the beholder. And I've decided I'm the beholder.
Now I just have to worry about what shoes and necklace to wear... And it all starts over again.