Ryan is a very lucky guy because ever since we've gotten engaged I have this need to cook and clean. It'll probably go away as soon as we actually tie the knot (so don't get used to it!), but I just can't seem to shake it.
So I'm going to be a little self-indulgent (that's what blogs are for, right?) and let you in on some things I've done around the house and in the kitchen.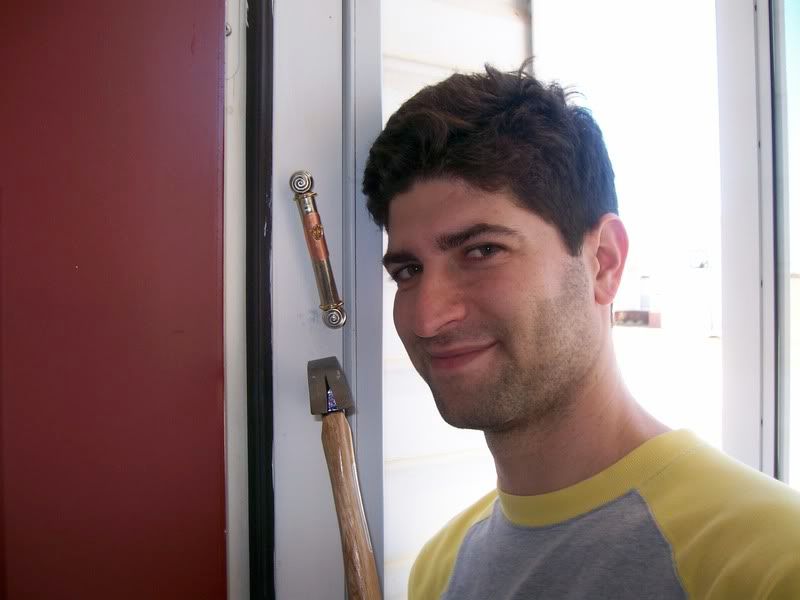 Most importantly, we finally hung our mezuzot! Mezuzot are supposed to be affixed on your doorpost within 30 days of moving into a new place. Better late than never, right? A mezuzah is a piece of parchment with the Shema written on it. It is encased in an ornamental covering with the Hebrew letter Shin on it. You are to affix the mezuzah one-third of the way down on the right door frame. The top part of the mezuzah should be pointing toward the inside. This was done as a compromise between those who thought it should be placed vertically and those who thought the mezuzah should be oriented horizontally. It also signifies that G-d is entering the room.
Some Jews put one only at their front door. We put one on our garage doorpost because we enter through that door most often. One of our mezuzah is from Israel. The other was given to us by Ryan's sister.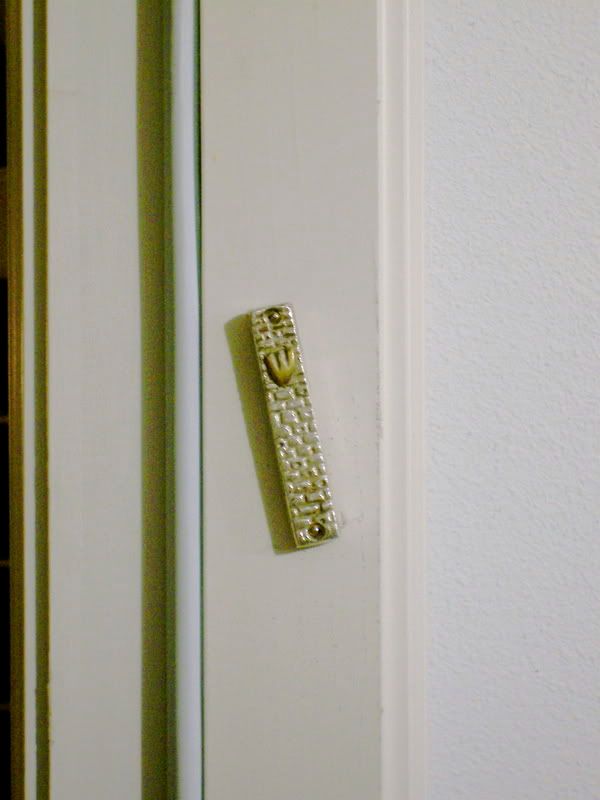 I also recently hung a print I bought months ago. The print shows the Shabbat candles. You can't see it in the picture below, but the Shabbat prayer is actually written throughout the painting. This is probably a holdover from my days as a Christian and seeing the Lord's Prayer and the Last Supper next to the table during my formative years, but I find having it near our dining room table very comforting.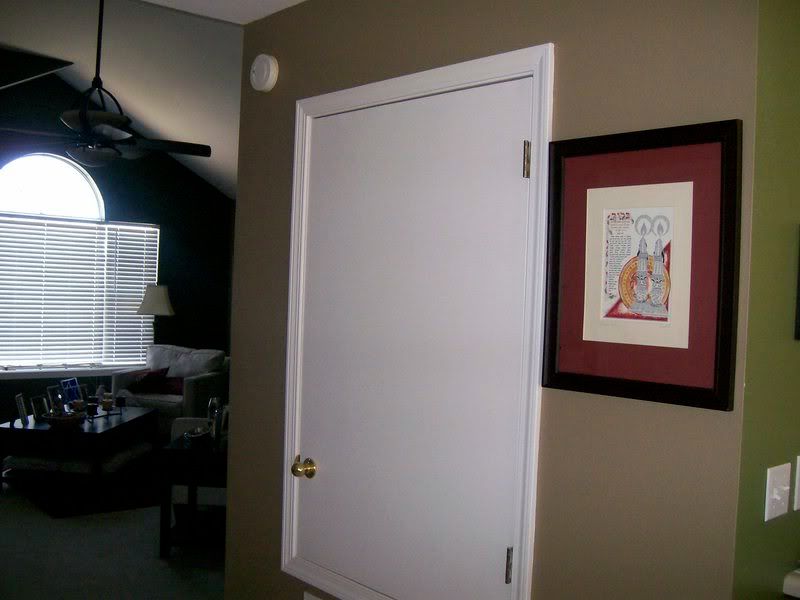 Speaking of our dining room table, I have tried to acquire some level of comfort with cooking. I recently purchased a Kosher cookbook and I tried my first recipes out of it this past weekend. For lunch, I made cranberry chicken with sweet carrot salad (both shown below) and applesauce cake for dessert. For dinner, I cooked steaks and Italian tomato salad.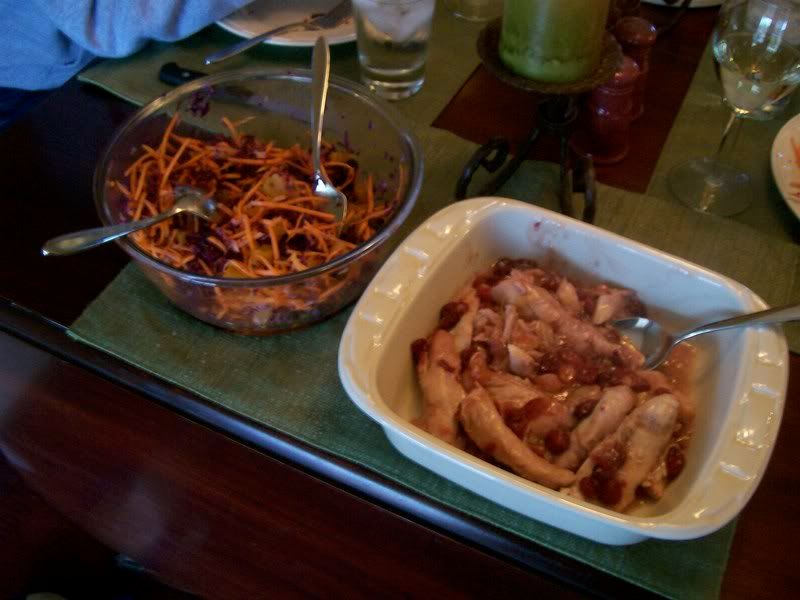 Overall, everything was a hit, even if the steaks were a little overcooked for our taste. The applesauce cake was fabulous. The recipes were pretty simple, but I'll post anyway:
Cranberry Chicken (makes 4 to 6 servings)
1/2 cup flour
3/4 cup orange juice
2 cups fresh or frozen cranberries
1 cup sugar
1/4 cup margarine
1/4 teaspoon cinnamon
1/4 teaspoon nutmeg
1/4 teaspoon ginger
1 teaspoon salt
6 boneless chicken breast cutlets, about 3 pounds
1. In small saucepan, over medium heat, blend flour with orange juice, adding juice slowly, whisking to keep smooth.
2. Add cranberries, sugar, margarine, cinnamon, nutmeg, ginger and salt. Stir to mix.
3. Bring to a boil, stirring constantly to avoid lumps.
4. Cool cranberry mixture slightly.
5. Rinse cutlets and pat dry. Place in large, deep skillet.
6. Pour cranberry mixture over chicken in skillet.
7. Cover and simmer 40 minutes. Serve immediately.
Sweet Carrot Salad (4 servings)
1 10-ounce package shredded carrots
1/4 cup shredded red cabbage
1/2 cup raisins
1/4 cup orange-flavored Craisins or dried cranberries
1/4 cup crushed pineapple
1/2 cup dried apricots, quartered
2 tablespoons orange juice
2 tablespoons honey
1/4 cup canola oil
1/4 teaspoon cinnamon
1/8 teaspoon nutmeg
1. Place all of the ingredients in a salad bowl.
2. Toss well to mix. Serve chilled or at room temperature.
Applesauce Cake
3 cups flour
1 1/2 cups sugar
2/3 cup canola oil
1 12-ounce jar applesauce
2 eggs
2 teaspoons cinnamon
1 tablespoon baking powder
1/8 teaspoon salt
1 teaspoon pure vanilla extract
2 teaspoons cinnamon sugar
1/2 cup non-dairy whipped topping
1. Preheat oven to 350 degrees. Lightly grease 9 x 13-inch cake pan with non-stick baking spray.
2. Combine all of the ingredients except for the cinnamon sugar and topping. Mix on medium speed until well combined about two minutes.
3. Pour into prepared pan. Sprinkle with cinnamon sugar.
4. Bake for one hour or until a toothpick comes out clean.
5. Serve with a dollop of topping.
Italian Tomato Salad
2 10-ounce boxes of grape tomates, cut in half through stem end
1/2 cup olive oil
2 tablespoons balsamic vinegar
2 tablespoons prepared minced garlic
2 teaspoons dried oregano
2 teaspoons basil
1 teaspoon kosher salt
1/2 teaspoon pepper
1. Place tomatoes in medium bowl.
2. In small bowl, mix all other ingredients. Pour over tomatoes.
3. Toss and serve.